Englewood, New Jersey offers a diverse and beautiful community with plenty of things to do. This neighborhood combines the best of urban and suburban living. Located just outside New York City, Englewood provides quick access to Broadway shows, museums, and sightseeing. However, this neighborhood also has plenty of gems on its own. Those gems include luxurious spas, excellent food, unparalleled culture, and more. In the springtime,
Englewood
truly blossoms with things to do. Here are seven activities to enjoy in Englewood this spring.
Enjoy a Steak at Sofia
Sofia
is one of the most popular restaurants in Englewood, combining the nightlife atmosphere with delectable dishes. It offers live music, plenty of space, and premium food choices like steak and seafood. Sofia also offers delicious pasta and Italian food for the vegetarians in your group. This restaurant has a long list of wines, beers, and cocktails to suit virtually anybody's tastes. You can dine indoors or outdoors, though either option provides a beautiful dining experience. The outdoor dining option is perfect for when the weather starts to warm up in the springtime. But even on chillier nights, the patio is heated for guests' comfort.
Sample Vegan Dishes at Bennies
Are you looking for more vegan- and vegetarian-friendly options? Bennies Restaurant has tasty Mediterranean cuisines, including several meatless options. Bennies features healthy and clean foods that are also delicious. Patrons can sample history and culture along with their meals. With its gorgeous wall tapestries and colorful decor, Bennies provides a bright and vibrant experience for all the senses.
Visit the El Tango Argentina Grill
Englewood features a diverse range of cultures. Being surrounded by so much culture has a lot of benefits. For example, it means that locals can taste some truly amazing food from all over the world. Perhaps you tried the Mediterranean fare at Bennies for lunch, and now you'd like to sample dishes from another part of the world. Well, how about Argentina? The El Tango Argentina Grill features authentic and delectable Argentinian food. The menu features empanadas, pasta, brunch options, and much more. Plenty of guests especially enjoy the Grill's happy hour margaritas.
Enjoy the Outdoors at the Flat Rock Brook Nature Center
Springtime in New Jersey creates the perfect opportunity to go outside and enjoy the sun. The
Flat Rock Brook Nature Center
provides a magnificent spot to do precisely that. The Nature Center has 150 acres of natural beauty, and it truly comes alive in the spring. This nature preserve includes hiking trails, a sparkling stream, and plenty of opportunities to discover the wildlife. It also has an education center with environmental learning programs.
Have a Picnic by the Water at the Englewood Picnic Area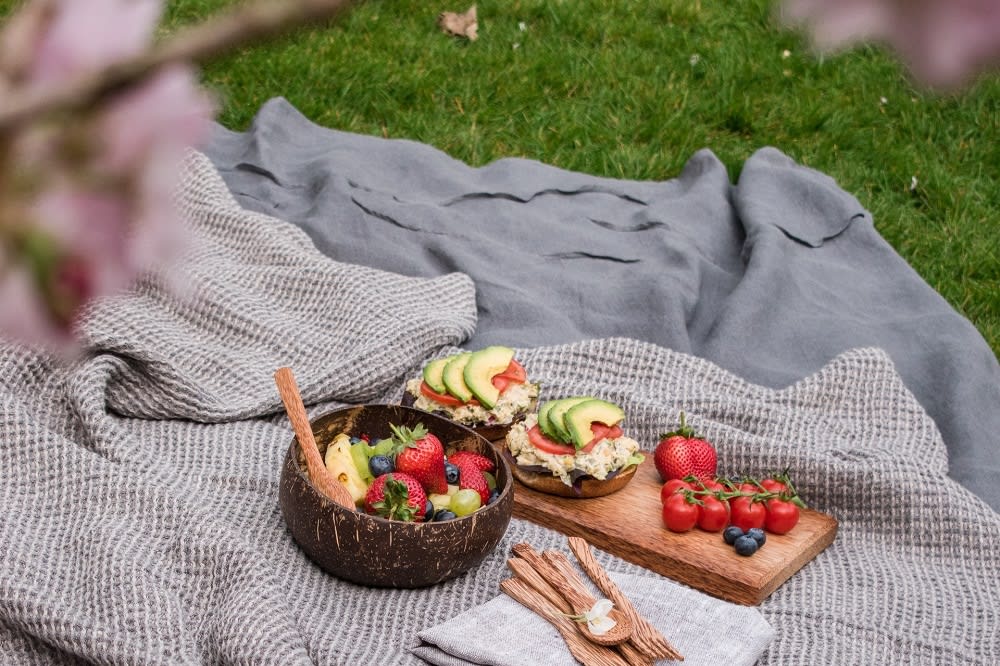 If Flat Rock Brook left you wanting even more natural beauty, you could have a waterside picnic at the Englewood Picnic area. The Englewood Picnic Area is part of the Palisades Interstate Park. It's less than five minutes away in Englewood Cliffs. The park features a vast stretch of picnic areas to enjoy the best springtime has to offer by the water. If you're looking for a place to have fun with the family, the Englewood Picnic Area also features a playground for the kids. Try to arrive early, though, as spots fill up quickly. However, if the Picnic Area itself seems a bit too crowded, you can always take a walk along the nearby trails.
Purchase Wines from Across the World at Jerry's Homemade
Do you need some wine to pair with your picnic? What about cheese? Jerry's Homemade offers plenty of both. This gourmet market has an extensive collection of wines from all over the world, with a particularly awe-inspiring selection of Italian wines. If you're not sure which one to bring to your picnic, visit Jerry's during one of their free wine tastings to sample your options first. While you're there, you can visit the cheese and pastry counters to round out your meal. The cheese counter, in particular, offers an immense variety with hundreds of options to suit your tastes.
Have a Drink at Giovanni's Bicycle Club
Known affectionately in Englewood as "The Bike," Giovanni's Bicycle Club is one of the best places in New Jersey to get Italian food. The old-fashioned, homey building has a cozy feel for when you just want something simple and friendly. The bartenders and other employees add to the coziness, providing a welcoming atmosphere for everyone. The cuisine, however, is anything but simple. The menu has something for everyone, including pizza, pasta, steak, seafood, and amazing desserts. If you're hosting an event and want to provide food that everyone will love, they also offer catering. Plus, the bar here is a big part of Englewood's nightlife, so why not stop by for a drink?
Explore the Bergen Performing Arts Center
The Bergen Performing Arts Center is a non-profit theatre that provides many opportunities to take in some culture. This beautiful theatre features dance, concerts, plays, and other events. While the events truly take off in the summer, this theatre still offers things to do and see in the spring. For example, its arts education program has virtual and in-person classes. You can also find several delicious restaurants nearby if you're hungry after your visit or want to plan your next date night. The best part is that when you support the Bergen Performing Arts Center, you help provide free tickets to people who may not have otherwise been able to visit the theatre.
Create Some Art at the One River School
The One River School features an art gallery that regularly hosts exhibitions. If you want to add more art and culture to your life, the One River School will let you make the most of the opportunity. Its collections feature local artists and artists from nearby places like New York. You may just discover your new favorite artist by exploring the gallery. The One River School also offers many art classes for children, teens, and adults alike. People of all skill levels and experience levels are welcome to learn in this flexible environment. If you'd like something creative for your children to do over spring break, this school has many workshops coming up. Children, from kindergarten through high school, can learn how to create different types of art.
See Photography at Gallery 270
Located in nearby Westwood, Gallery 270 is a lovely place for art-loving Englewood residents. This gallery focuses primarily on photography, so after seeing some theatre and paintings in Englewood, you can swing by Gallery 270 to round out your complete artistic experience. The gallery is lovely and spacious, making it an excellent place for art lovers to explore. Take your time wandering the gallery and thoroughly take in the exhibits. Gallery 270 also sells photography. If you're looking for the perfect piece of art for your Englewood home, you may just find it here.
Get a Natural Manicure at Karma Organic Spa
Do you like to update your nails with bright colors in the spring? Or do you prefer to stick with classic options like French tips? No matter the preference, visiting the Karma Organic Spa makes a lovely choice for some springtime pampering. The Karma Organic Spa has two locations, one of which is in Englewood. Karma uses vegan, cruelty-free nail products, so you can enjoy your manicure that much more. Karma also has a wide selection of essential oils, including relaxing lavender, revitalizing tea tree oil, and more. In addition to several relaxing manicure options, Karma also has facials, massages, waxing, and more.
Drive a Luxury Car at Gotham Dream Cars
For many people, nothing says luxury like driving an exotic car. Gotham Dream Cars is here to answer the call. Gotham has just a handful of locations, including one in Englewood. It gives people the opportunity to drive luxury cars like Ferraris, Porches, and many others. You can rent a dream car for a day or more. Convertibles make a fantastic choice for springtime since you can take one of these dream cars on an extended tour to explore the scenery and enjoy the ever-changing weather. You might even choose to drive on Gotham's autocross course and experience the ultimate thrill ride.
If you'd like to get to know Englewood and its real estate options, the
Kolsky Team
would love to help. The team knows the ins and outs of this beautiful New Jersey community, and they would love to hear from you and help you find the perfect new home for your needs. Ask about Kolsky Team open houses to see your options in person.
Contact The Kolsky Team today
.